November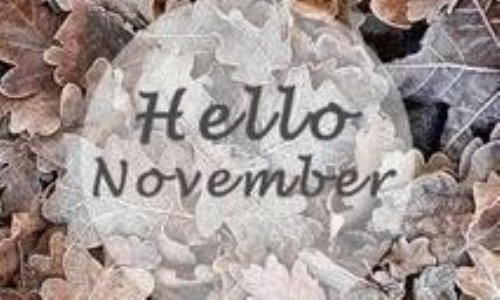 Who can believe it is already November? The months are flying by and we will soon be gearing up for Christmas festivities. Be on the lookout for Christmas dates and timetables which will soon be sent out to you.
We have had a very busy and productive first term and I can really see positive changes across the Federation. SFA is firmly embedded in the school timetable now and we are really beginning to see the positive influence and impact this is having on our children's learning.
We continue to welcome new starters across the Federation and we are very proud of how our children embrace them and make them feel part of the team from the very beginning. We value this aspect of social learning within our schools as it teaches the children how to recognise and embrace both differences and common ground that they share.
WEATHER
The weather is definitely now changing and the colder Autumn days are really settling in. Please remember to ensure your children come to school with appropriate clothing and footwear. There really is nothing worse than sitting in all day in damp, uncomfortable clothing.
ATTENDANCE
Regular attendance is important and impacts positively on pupil's progress and their confidence about learning. When children are regularly late they miss out on the start of the session and also having the time to settle into the day. This year we are aiming for 97% attendance in both Highlees and Eyrescroft.
DINNERS
I would like to thank you all for supporting and adhering to the new 'no debt' policy that was implemented from September 2017. This is working really well and no debts are being accrued. All school dinners can be paid for either at the school office or via ParentPay.
All of our school dinners are made freshly on site each morning by our dedicated kitchen staff and every meal plan is carefully thought out to ensure that the meals are healthy and nutritious and also appealing to the children.
In January both schools are adopting a cashless approach to payments for dinners and school visits. We are arranging for drop in sessions at both schools to support parents make the transition to the new system. We really appreciate your support with new approach.
PARKING
I would like to thank you for all the consideration you have shown this past term whilst parking at the beginning and end of the day. We are aware of the difficulties in parking but really appreciate the efforts you have made in being extra considerate to our local residents.
FSM'S
If you are receiving one of the following benefits you may be entitled to Free School Meals:-
Income Support

Income based Jobseeker's Allowance

Employment and Support Allowance

Child Tax Credit (not working Tax Credit)

Guarantee Credit element of State Pension Credit

Support Under Part 6 of the Immigration and Asylum Act 1999
If you think you might be entitled please come to the school office and fill out an application form.
PUPIL PREMIUM REVIEWS
Both school's welcomed a colleague to work with us to review our provision. It has proved to be a very useful few days and we have some recommendations on how to further improve our provision.
PARENTS OPINION
At parents evenings this month many of you took the time complete a questionnaire. We appreciate your feedback. We have included a link to the questionnaires:
Eyrescroft /_site/data/files/new%20folder%20(1)/51EBA3743DB28404CE85EB0049A85463.pdf
Highlees /_site/data/files/new%20folder%20(1)/12F2749A856A8EC5861082AEAABC142F.pdf
Both schools host Parent's Forum or Parent Say which provides parents the opportunity to get their voice heard. The next dates are:
Highlees - Wednesday, 22nd November 2:15-3:15pm
Eyrescroft - Wednesday, 17th January 5:30-6:30pm