Awesome Activity Day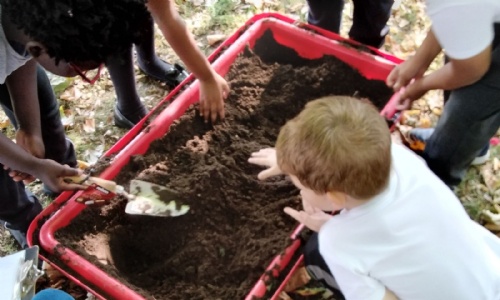 Digging for archaeological items.
On Thursday Maple and Elm classes received a letter from Professor Rufus from the British Archaeological Association asking for their help. There was a possibility that there were ancient relics in the grounds of Highlees and the children were being asked to do some exploring. On the morning they set off with trowels, brushes and clipboards to see what they could find. They were very excited to find a number of items during their dig including broken pottery, shells, a few fossils and a couple of Stone Age weapons.
They also became Stone Age Hunters during the morning; beginning by practising with bows and arrows, aiming at Stone Age animals so that they would be able to eat! The children also tried their hand with spears which they found much easier for accuracy.
Lastly, the children searched around the school field to find information about the kinds of plants and herbs that Stone Age people would have gathered to make their meals. They were quite shocked by some of the foods they gathered as we would not think of them as everyday food items any more.