Anti-bullying week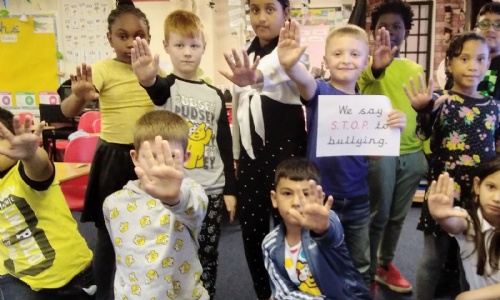 Saying S.T.O.P. to bullying.
This week has been all about 'Anti-Bullying'. The children began the week wearing odd socks to show that we are all unique human beings and no-one has the right to bully another person.
First, we wrote kind messages, positive statements of things they could do to show kindness. The children suggested things such as: playing with someone if they were on their own, holding doors open for other people, saying please and thank you, using kind words and complimenting people.
This was followed by the children thinking about kind words; two were chosen for each class and the children decorated them ready to be part of a school display.
Next the children thought about what is actually meant by bullying; that it is an action that is done more than once. They learnt about the 'S.T.O.P. message which has 2 meanings:
1. Several times on purpose
2. Start telling other people.