OH NO TRANIO!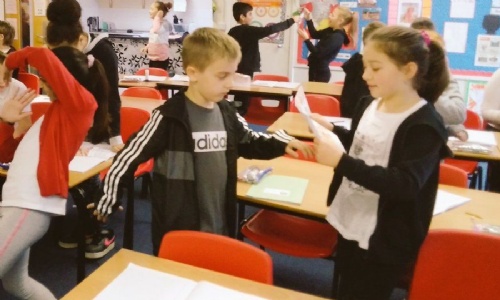 Have you ever sculpted a character?
In Year 4 we have been looking at the story of Tranio, a young boy who lives in Pompeii. He likes to spend his days looking out of the window, going down to the harbour to watch the ships and the fishermen, walking through the bustling market, playing knucklebones with his friend and watching his actor parents rehearse and perform on stage.
One day he is watching his parents rehearse when all of a sudden... the stage starts to rumble and the scenery starts to collapse... What is going on?
We used our drama for writing skills to sculpt each other as the actors from the picture in the book. We thought about the shapes of their bodies and their thoughts and feelings. It was an excellent collaborative lesson where everyone worked really hard and supported each other.
Parents if you have worked out what might be happening in our story... SHHHHHHH! we have not looked further than this part of the story yet and no-one has made an accurate prediction yet of what is happening - we are going to find out more, next week!