Friday 21st May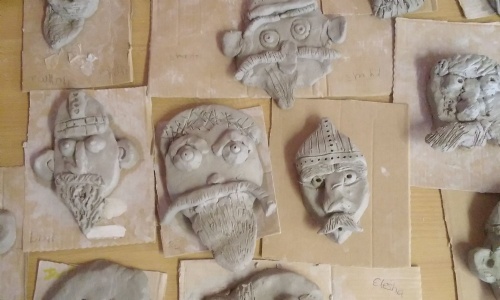 What a fun week we have had...
This week our sports coach has taught the class how to play rounders. We used our throwing and catching skills to throw over and underarm. We were split into four groups and had a mini competition with each other. It is hard to hit a ball with a bat when you are only holding it with one hand!
Also, we have been showing off our writing skills for our Purple Write Books. We have written non-chronological reports about various dragons from all over the world and beyond...
On Thursday we worked as a team and went with litter pickers and a black sack to go and help combat the litter that has blown into our environmental area. As there were not enough litter pickers - we used our brains and collected sticks that had already fallen to the ground and made our own makeshift litter pickers. We also thought about and designed our Viking heads that we were going to recreate using clay and clay tools.
Do you know what scoring means when you use clay???
For part of our topic work and also part of Paper Consideration Day, we created our Very, Vicious Vikings!
It was a lot harder than we thought it would be.