Dragons and Knights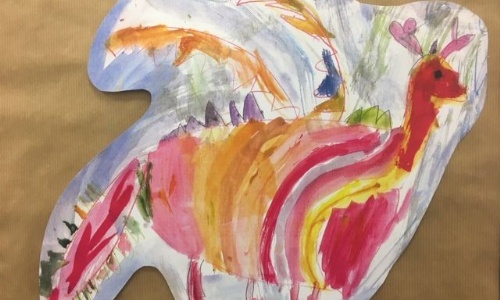 Dragons, dragons everywhere!
We have used two fantastic books this term as we have continued to explore our topic of Towers, Tunnels and Turrets. Our first book was Tell me a dragon, which uses beautiful language to describe a huge variety of dragons. After exploring the amazing images and descriptions we then designed our own dragons, before writing a description. Our writing had to use fantastic adjectives and we also learned how to write expanded noun phrases such as sparkling, emerald eyes.
At the moment we are beginning to explore the story of Small Knight and George and the Royal Chocolate Cake. We used drama to act out the story and to explore how the characters were feeling at different points. The Royal chocolate cake is stolen by Brigands so we will be creating our own Brigand and practising our expanded noun phrases as we describe them. Later on we will be retelling the story in our own words.
In topic we have been finding out more about castles, thinking about where they would be built and why. Did you know that castles are often built on hills to make them easier to defend? We worked with a partner to build our own castle and had to show the landscape features that would be near by, such as a river for water and to catch fish and a forest for hunting and collecting wood for fuel.
In maths we have been comparing and ordering numbers up to 100. We have also been looking at fact families for numbers to 10 and working out how they can help us with other calculations. If you know 6+4=10, then you know that 10-4=6, that 16+4 = 20 and 60 + 40 = 100. It would be great it you could help your child practise their number facts at home.
Some of our wonderful work!