School Council shows we care with "Bags of Love" appeal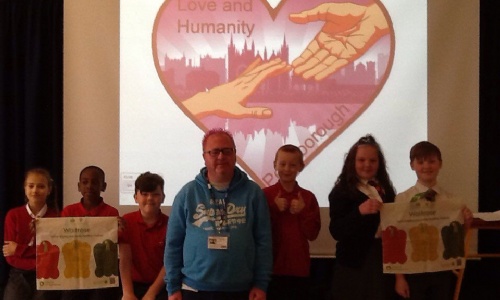 Our school council is co-ordinating a school wide collection of goods for Peterborough's homeless community.
This half-term, the school council will be leading a fantastic charity event to help our local homeless men and women. "Bags of Love" is an appeal organised by "Love and Humanity Peterborough", collecting much needed everyday items for distribution to the homeless community. The whole school will be collecting things to donate; we have given each class a bag to fill with donations, and there are donation points in the school office and the staff room. Please kindly support us by donating any of the following which you no longer need:
clean hats, gloves, scarves and warm jackets;
in date snacks which do not need cooking or refrigeration eg. breakfast bars;
sealed bottles of water;
ladies sanitary products;
wet wipes;
sealed pocket tissues;
unused suncream, hand lotion and antibacterial hand gel;
new combs, brushes and hair ties;
unused toothpaste, tootbrushes, shampoo and shower gel;
clean blankets.
Our plan is to collect as much as possible! On Friday 25th May, we will sort all the donations by category and deliver everything to the charity.
Thank you for your support!