It's Dolce Competition Time at Highlees Primary School!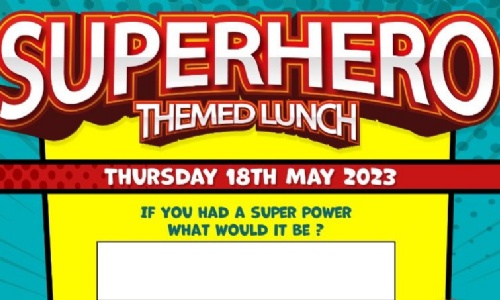 It's Dolce Competition Time at Highlees Primary School!
Thursday 18th May 2023
Key Stage 1 - WIN £250 for your school!
HEROES ASSEMBLE!
Dolce (our Catering company) are looking for the school with the best KS1 super hero
masks!
Pupils can decorate a super hero mask in class and we will take a photograph of all the children wearing their masks and send it to Dolce.
Our School will then be entered into a national draw to win a £250 cash prize for our school!
Dolce have sent our kitchen staff some masks they can decorate and wear on this day too so that everyone can to join in.
Key Stage 2 - Top prize is Go Ape! For a family of 4.

Many other prizes available including a £20 Amazon gift vouchers
Dolce would like to see how creative KS2 pupils can be by asking them to complete the following question:
If you had a super power, what would it be?

Tell us how this power could help people.
Dolce have provided a designed competition slip. We will print off the page for pupils to fill in.
We are asking kitchen staff to select their favourite top 3 entries and submit these to Dolce for them to do the final judging.
All entries from each school will go into our national prize draw to win many great prizes like a £20 Amazon gift voucher, including the top prize of tickets to the local Go Ape experience for a family of 4!
There are plenty of prizes to be won, but remember
You have to be in it, to win it!