HEAD OF SCHOOL FOR THE DAY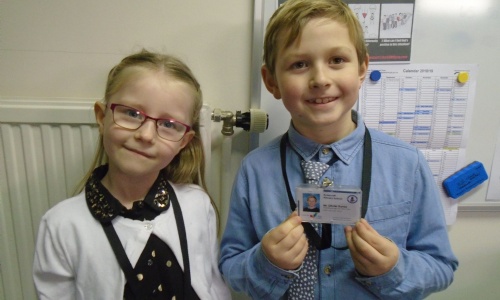 Lexi and Olivier were the winners of our 'Be the Head of School for the day' raffle in aid of Children in Need.
On our morning walk around school we were happy to see the children learning and listening well to their teachers. We gave out stickers for good behaviour. We sat in a meeting with Miss Dines. After we helped lead both Key Stage assemblies with Mrs Panton. The assemblies were on the subject of 'how people help us' like the police, paramedics, doctors etc. We did a safety walk of the school with Mrs Panton.
Lexi said that she "really enjoyed being the Head of School for the day as it was fun and I liked telling people what to do!" Lexi added "Headteachers have an important job to keep everyone safe in school". Olivier said he "enjoyed learning new things which Headteachers have to do".
Miss Dines said she thoroughly enjoyed having Lexi and Olivier by her side for the day, they were absolutely fantastic and should definitely consider it as a career when they are older. Well done!