Admissions
Reception (EYFS) Admissions for September 2023
If you require any further information about School Admissions, please contact the school office: highleesoffice@hefed.org
When will my child start school?
Children born between 1st September 2018 and 31st August 2019 start school in September 2023. They will enter the Early Years Foundation Stage of primary school.
How can I find out more about Highlees before I apply?
Towards the end of 2022, we will hold open sessions where prospective parents/carers are welcomed to Highlees. We present information about Highlees, give tours of the school showing our children at work, and offer the opportunity for parents to ask questions about the school. The sessions will be advertised in the Autumn term of 2022. We also welcome visits throughout the year. If you are interested in visiting our school, or have any questions, please contact our school office who will be happy to help. Please see our "Contact Us" section for our contact details.
How do I apply for a place for my child at Highlees?
You can apply for your child's primary school place via the Local Authority (LA), which is Peterborough City Council. You have the option to choose three schools in order of preference. Applications can be made online from 12th September 2022.
Applications for a Reception place must be made via the link below.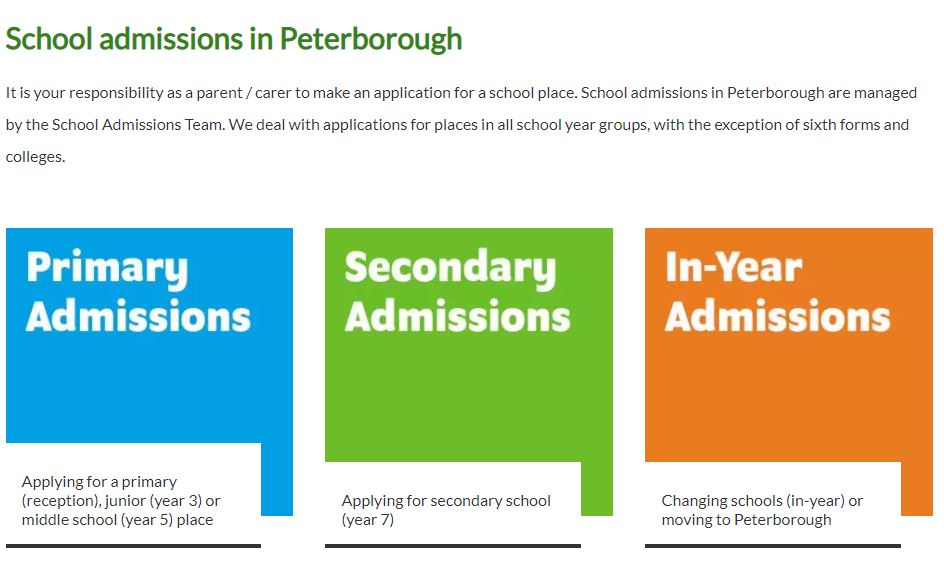 Admissions Criteria
Academy Name

Highlees Primary School

Academy Address

Ashton Road, Westwood, Peterborough PE3 7ER

Headteacher

Mrs Melissa Albert

Telephone Number:

01733 264294

Admission Number

8742000
When is the deadline for applications?
You have until 15th January 2023 to submit your application.
Applications for 1st September 2022 onwards will be considered under the 'Determined Admissions Policy As From September 2022 23'. A copy of this is attached at the bottom of this page.
When will I know if my child has been offered a place?
You will find out which schools have offered your child a place on National Primary Offer day, which is on 17th April 2023. You can do this by logging on to the Peterborough City Council's online application system.
What can I do if my child has not been offered a place and I feel this is unfair?
You have the right to appeal against the decision. You will need to make your appeal directly to Peterborough City Council. Details of how to appeal, and the appeal time table, can be found here.
Please see the below 'Determined Admissions Policy' for more information.
The Academy has now determined the admissions policy for entry into the academic year 2023/2024. The policy is attached below.
In-Year Admissions
If you would like your child to transfer to Highlees from another school you will need to apply for an in-year transfer. The application is made to, and managed by, Peterborough City Council.
Applications for an in-year place must be made via the link here.
If you would like further information regarding the admissions procedure, please contact our Office Manager, Miss Sara Hamlet, on 01733 264294.
For further support and guidance, please see: https://elliotfoundation.co.uk/resources/admissions