EYFS
Welcome to the EYFS page for both our Reception classes here at Highlees.
We have two classes in Reception. One will be taught, full time by our Early Years Lead, Mrs Cadman and the other class will be shared between, Mrs Frith and Mrs Everett. We have Mrs Metheram, Mrs Cole, Miss Jarvis and Mrs Aldous supporting us in these classes.
Remember: The EYFS school day will now be from 8:40 a.m. - 3:10 p.m.
PE: PE will be on a Thursday for both Classes. Please ensure that you wear your PE kit to school every Thursday. We will not be getting changed prior to the lesson. This is an important part of our school curriculum, and we encourage all children to take part. Appropriate PE kit consists of a white t-shirt, black shorts or jogging bottoms/leggings and suitable footwear such as trainers or plimsolls.
Forest school: Forest school will be on-going throughout the school week and so please make sure that your child has a named pair of wellies left in school during term time. Children will be out all weathers and we have weatherproof onesies for all the children to wear whilst we are out and about exploring.
Reading: Children are expected to be responsible for bringing in their reading diaries and books when they need to be changed. They will need to hand in their reading records for checking on a Friday, along with changing books. We will continue with the 10 minute pledge, where we promise to read 10 minutes to your child every day - with you reading with them for another 10 minutes.
Meet our EYFS Team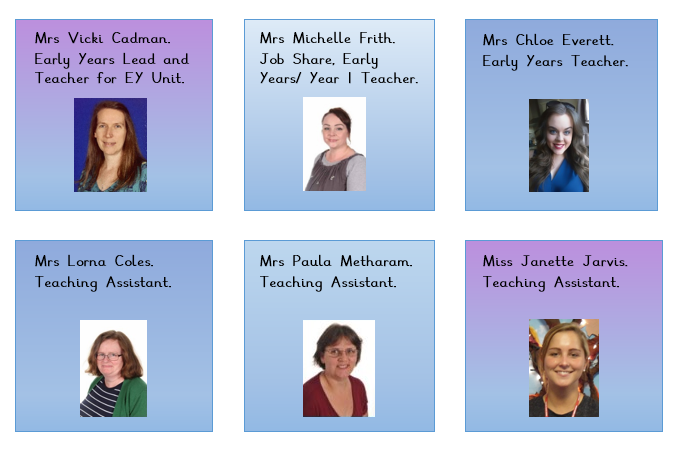 Our Classroom
Welcome to our Reception Classroom, also known as the Early Years Foundation Stage (EYFS).
During your time in Reception, you will meet lots of new friends, learn many new skills and grow in confidence every day.
In Reception, we all enjoy doing our learning together, both in the classroom and outside of the classroom.