Parent Information
We can't wait to welcome our new reception children for the start of their amazing adventure at Highlees in September.
Home Visits will begin from Monday the 4th of September.
Children will attend an am or pm session to ensure a smooth transition, this will start from Monday 11th September until Friday 15th September. The morning and afternoon timings are: 8.40am - 11.10am - for Group A and 12.40pm - 3.10pm for Group B
Monday 18th September: All children will stay till after lunch. 8.40am - 12.45pm.
All children will be full time from Monday 25th September. 8.40am - 3.10pm.
Please see the timetable below...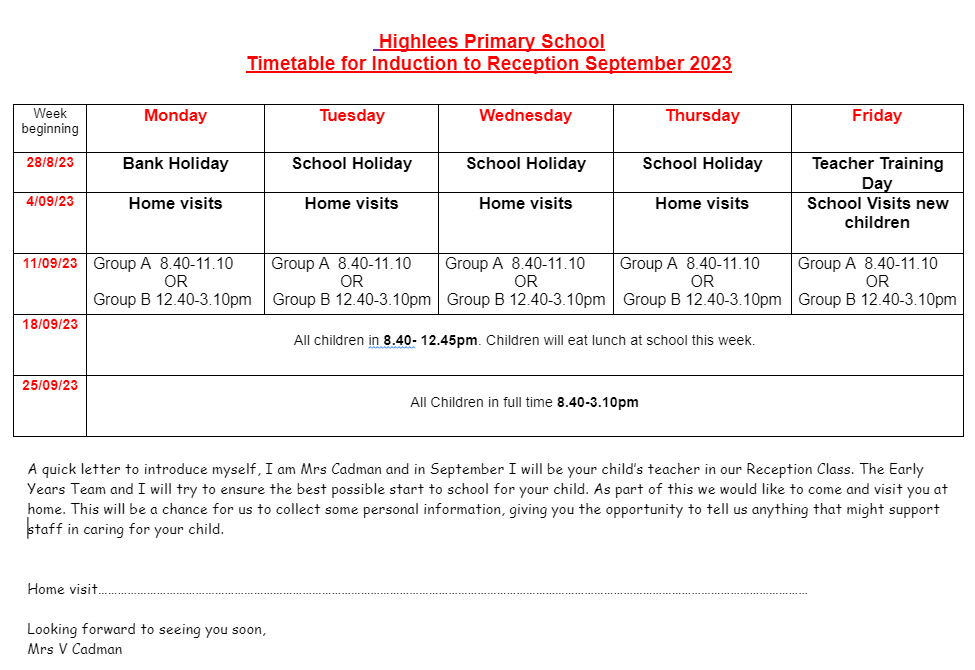 Other visits we have arranged...
Parent Meeting - Monday 19th June 5pm until 6pm.
Teddy Bear's Picnic - Wednesday 21st June 10am until 11am.
Stay and Play Session With Parents - Wednesday 28th June, 9.15am - 10.15am for Group A and 10.30am - 11.30am for Group B.
Stay and Play Session Without Parents - Wednesday 12th July, 9.15am - 10.15am for Group A and 10.30am - 11.30am for Group B.
You would have received a letter, letting you know which group your child is in. If you haven't received a letter with this information from us, please phone the School Office on 01733 264294.