Uniform
We feel it important that children not only take a pride in the appearance of the school, classroom, school work, etc, but also in their own appearance. We encourage the wearing of uniform and the children enjoy showing that they belong to the school in this way. Uniform is one of the criteria of your child's report card. In order to be awarded 'green' your child needs to wear school uniform every day.
Blue sweatshirts and cardigans and blue polo shirts bearing the Eyrescroft Primary School logo can be ordered from ChromaSports.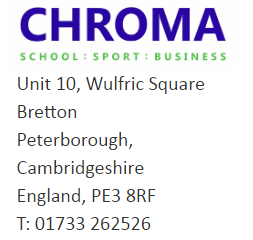 Alternatively, plain blue sweatshirts and blue polo shirts can be purchased from many high street shops.
Girls (Reception to Year 6):
Blue sweatshirt, jumper or cardigan
Grey/Black skirt, pinafore or trousers
Blue polo shirt or blouse
Black or Brown shoes
Boys (Reception to Year 6):
Blue sweatshirt, jumper or cardigan
Grey/Black trousers
Blue polo shirt or shirt
Black or Brown shoes
PE Kit:
Children must have a PE kit. PE is a legal requirement. This may include shorts and a plain t-shirt in the school colours of blue, white or black. Appropriate footwear is essential, eg, trainers or plimsoles, which are needed for outdoor games. The PE kit should be kept in a PE bag, which should be kept in school on your child's cloakroom peg all week.
Summer Uniform
Girls may wear sun dresses in blue check.
Boys may wear shorts in grey or black.
Sandals may be worn as long as they have a strap – no flip flops please.
Sun hats may be worn at break times and lunch times.
As we are unable to apply sunscreen to your child, please ensure that you apply it before they come to school.
PLEASE LABEL YOUR CHILD'S CLOTHES AS THINGS DO GO ASTRAY
JEWELLERY, INCLUDING EARRINGS, SHOULD NOT BE WORN
JEANS ARE NOT SUITABLE FOR SCHOOL WEAR
Jewellery
Children are not permitted to wear items of jewellery. They may wear studs or sleepers if they have their ears pierced. Earrings whilst cannot be removed by a child may be covered by micropore tape for PE lessons. Other personal items such as wristwatches may be worn, but the school accepts no responsibility for their safety.
Packed Lunch Boxes
Packed lunch boxes must have your child's name marked on the outside and carried in a lunch bag or backpack. Please remember we are a 'Health Eating School'.
Lost Property
Lost property, which is not named, will only be kept for a limited period and then disposed of.
Second hand uniform
As a school, we ensure second-hand uniforms are available to purchase through the collection of unwanted uniforms at the end of each term. Second-hand uniform is kept as spare for emergencies; resold by PTA; and donated to families in need.
Please contact the school office if you are struggling with the costs of uniform.